Core Team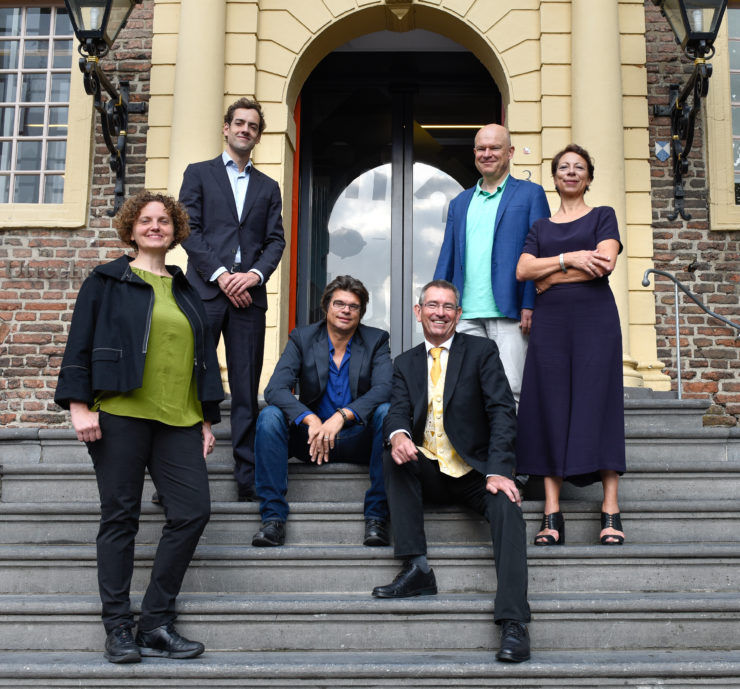 Pictures by Marike van Pagée     
Core Team
Denise de Ridder
UU
Denise de Ridder is Professor of Psychology at Utrecht University and an internationally appraised specialist on self-regulation, behavior change, and nudging. She acquired funding for a number of large-scale projects, such as the Welfare Improvement through Nudging Knowledge study (NWO TOP 2015-2018), 10 Year UP (NWO Investments 2018-2027), and several EU funded projects. De Ridder received the Distinguished International Affiliate award (2016) from the American Psychological Association and the Senior Research Fellow award (2016) from the European Health Psychology Society. She writes columns in the Dutch newspaper NRC Handelsblad on the topic of behavioral science and policy making. De Ridder served as scientific director of the KNAW accredited Psychology and Health Research Institute (2005-2010); and (co-)founded multiple collaborative multidisciplinary networks that address the role of individual behavior in societal problems, including the Behavior and Institutions hub at Utrecht University. These initiatives have led to a new approach to the institutional guidance of individual choice, which is now consolidated in the Prompted Rationality consortium.
Lars Tummers
UU
Lars Tummers is Professor of Public Administration and Organization Science at Utrecht University. He was appointed in 2018, at the age of 36. He is an internationally recognized expert on public management, leadership and government-citizen relations. Related to this, Tummers is one of the initiators of an interdisciplinary field combining psychology and public administration, called 'Behavioral Public Administration'. He and his colleagues kicked of this field by organizing a KNAW Colloquium on this, where 50 top scholars from various fields united. He subsequently developed core overview articles in the most highly regarded journals in the field. He won various prizes, such as the university-wide Research Prize at Erasmus University, best article awards and the award for outstanding PhD-thesis in humanities and social sciences (Praemium Erasmianum Foundation, based on cum laude PhD). He has received over 5 Million Euro in grants, from among else the European Union (FP7, Marie Curie grant carried out at Berkeley, USA), and NWO (VENI, VIDI).
Herbert Hoijtink
UU
Herbert Hoijtink is professor in applied Bayesian Statistics. His is internationally recognized for opening up the area of informative hypotheses evaluation. This approach allows researchers to test their theories and hypotheses instead of having to resort to the traditional null and alternative hypotheses. He has published books, papers in the top journals in his field, and published free and open software on the evaluation of informative hypotheses. With groups at the universities of Hannover, Liverpool, Shanghai, Ghent, Irvine, and Tilburg, doing research into the evaluation of informative hypotheses, his approach is also gaining international visibility and support. He has obtained a NWO VICI grant, obtained about 3 million Euro of grant money, has an H-index of 31 and has been cited 3640 times. He was visiting scholar at, for example, Harvard University and Ghent University, and is associate editor of the top journal in his field: Psychological Methods.
Read more
Henk Aarts
UU
Henk Aarts is a full professor in Psychology. He is internationally recognized for his groundbreaking research on habit, goals and decision-making. He is the leading scholar and founder of a research center at Utrecht University, including researchers at different career stages and from different nationalities. The center adopts a multidisciplinary perspective, and addresses new insights for modeling and testing the origin and relation between goals and behaviors in the context of health, environment, work, and social conflict. Henk received a considerable amount of research funding (e.g., VIDI, VICI, ZonMW); publishes books and in top-tier journals (19,700 citations to date, with a H-index of 65; source: Google Scholar); is Fellow of several scientific associations; visiting scholar at international institutes (e.g., Harvard, NYU, Hebrew University and Doshisha University); and serves as editor at flagship journals and director, chair and member of several (inter)national research and teaching committees and consortia.
Caroline Hummels
TU/e
Caroline Hummels is Professor of Design and Theory for Transformative Qualities at Eindhoven University of Technology. She is an internationally leading academic in the field of Research through Design that aims to develop socio-technical systems for the support of transformation in real-life settings. Hummels co-founded the Tangible, Embedded and Embodied Interaction Conference (TEI) series. She developed new forms of living labs and field labs, such as Experiential Design Landscapes, which optimize the relation between experimental control and ecological validity. Work by Hummels and her team was presented at more than 100 exhibitions all over the world, including the World Expo in Milan. She is Editorial Board Member of the International Journal of Design and the Design Research Foundations book series. For seven years in a row, Hummels has been in the FRITS Top 50 of most influential women in the Eindhoven region.
Erik Hans Klijn
EUR
Erik hans Klijn was appointed in 2007 as professor of Public Administration at the Erasmus University. Klijn belongs to the world top researchers in Public Administration, working in the field of complex decision-making and governance (and governance networks). His work on networks and governance is considered as path breaking in the field of Public Administration. He has been president of the International research Society of Public Management (2012-2018), one of the largest scientific organizations in the field of public management and Public Administration. He acquired funding for his research from various organizations like NWO (smart governance project on Public Private Partnerships), NVWA (governance of risk management) and EU (Klijn is currently coordinator for the EUR for the 2020 project TROPICO). He was visiting professor at Birmingham University's School of Government and Society (UK) between 2005 and 2012 and had visiting scholars at several other universities.
Read more